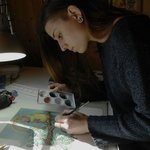 Alessandra Plasterpad Parigi
Born in Turin (Italy) April 23, 1990, began as a child to scribble on sheets of drawing paper and has not stopped since. After years of study in the field of industrial design, comics and illustration, both traditional and digital, can be defined as an illustrator. Finally. Nata a Torino il 23 Aprile 1990, ha iniziato sin da piccola a scarabocchiare sui fogli da disegno e non ha più smesso. Dopo anni di studio nel campo del disegno industriale, del fumetto e dell'illustrazione sia tradizionale che digitale, può definirsi un' illustratrice. Finalmente. Alessandra Plasterpad Parigi joined Society6 on November 11, 2013
More
Born in Turin (Italy) April 23, 1990, began as a child to scribble on sheets of drawing paper and has not stopped since. After years of study in the field of industrial design, comics and illustration, both traditional and digital, can be defined as an illustrator. Finally.
Nata a Torino il 23 Aprile 1990, ha iniziato sin da piccola a scarabocchiare sui fogli da disegno e non ha più smesso. Dopo anni di studio nel campo del disegno industriale, del fumetto e dell'illustrazione sia tradizionale che digitale, può definirsi un' illustratrice. Finalmente.
Alessandra Plasterpad Parigi joined Society6 on November 11, 2013.