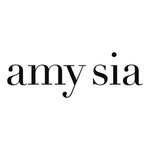 Amy Sia
Amy Sia is an Australian-born, London-based licensed artist and textile print and fashion designer.
Amy studied fashion design at RMIT University in Melbourne, Australia and subsequently worked in the areas of design, product development and production in the Australian fashion industry. In 2011 Amy moved to London to pursue a career in textile print design.
Amy quickly became known for her distinctive and bold use of colour in joyful, feminine and painterly designs.
Amy's designs have been used by fashion designers and brands all over the world, including Calvin Klein, Donna Karan, Topshop, ASOS and Victoria's Secret, and her products have been sold at a variety of retail stores, including Selfridges, Heals, Anthropologie, Urban Outfitters, Bed Bath and Beyond, Kohl's, Lord and Taylor, Neiman Marcus and Nordstrom.
Amy has a strong social media presence with over 190,000 Pinterest users following her eye for design and has worked on a number of Pinterest collaborations with brands such as Juicy Couture and Rachel Zoe
Read more