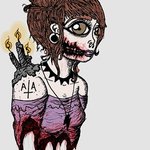 A+A Noisome Art
From: Guadalajara, Jalisco, Mexico ♥ A little about me: Hello! Thanks for reading & check my stuff out. I'm Andrea, I don't consider myself an artist as I don't have any 'professional' training or anything. I just love to draw, I've doing it since I learned how to hold a pencil. I really can't imagine my life without pencil, paper & dark ideas. Extra data: I also write stories I dye my hair a lot I'm lefthanded I love to read Little inspiration brought by: ● Horror Movies ● Music ● Sailor Moon ● Monsters ● Urban Legends ● Myths ● Books ● Halloween ● Tim Burton films ● Tattoos ● Etc... Facebook: https://www.facebook.com/aanoisomeart Tumblr: http://aa-noisome-art.tumblr.com/ DeviantART: http://andrea-annihilation.deviantart.com/ A+A Noisome Art joined Society6 on August 2, 2014
More
From: Guadalajara, Jalisco, Mexico ♥
A little about me:
Hello! Thanks for reading & check my stuff out. I'm Andrea, I don't consider myself an artist as I don't have any 'professional' training or anything. I just love to draw, I've doing it since I learned how to hold a pencil. I really can't imagine my life without pencil, paper & dark ideas.
Extra data:
I also write stories I dye my hair a lot I'm lefthanded I love to read
Little inspiration brought by:
● Horror Movies ● Music ● Sailor Moon ● Monsters ● Urban Legends ● Myths ● Books ● Halloween ● Tim Burton films ● Tattoos ● Etc...
Facebook: https://www.facebook.com/aanoisomeart
Tumblr: http://aa-noisome-art.tumblr.com/
DeviantART: http://andrea-annihilation.deviantart.com/
A+A Noisome Art joined Society6 on August 2, 2014.