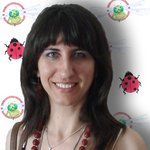 Andreea Dumez
Nature lovers! Welcome to my corner of colorful animal art. I'm Andreea, an artist who also worked as a pharmacist, keeping busy between my studio and my patients. After 16 years of juggling pharmacy and my studio, I decided to fully dedicate myself to my professional art and passion and go on with my mission to help the planet however I can:
My latest focus is the beauty of the birds of the Amazon rainforests (the so-called "lungs of the Earth") and my artwork explores the beautiful, yet delicate balance of wildlife in that ecosystem and touches on how we can protect what is left.

My creations explore mixing and matching natural shapes, colors and patterns and applying them to homes and lifestyle. Society6 allows me to find that creative niche where I can give a practical purpose to all my creations, on home decor, wall art, phone covers and more.
-- www.andreeadumez.com -- https://www.facebook.com/AndreeaDumezArtist/ -- https://www.pinterest.com/andydumez/ -- https://www.instagram.com/andreea.dumez/
Read more