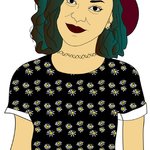 Saralynn
Hi! My name is Saralynn and I am currently an architecture student in Los Angeles. In between tough architecture projects, I am either clicking through Adobe Creative Suite or illustrating, micron always at hand. My mind thinks in patterns, multiplicity of lines and bold color schemes. I have always aimed to intrigue the eye with intricacy, and evoke emotion with boldness of pattern, color, or line work. I am a maximalist at heart; my objective being to leave the viewer lost in detail, always finding something new in my work. Saralynn joined Society6 on September 9, 2015
More
Hi! My name is Saralynn and I am currently an architecture student in Los Angeles. In between tough architecture projects, I am either clicking through Adobe Creative Suite or illustrating, micron always at hand.
My mind thinks in patterns, multiplicity of lines and bold color schemes. I have always aimed to intrigue the eye with intricacy, and evoke emotion with boldness of pattern, color, or line work. I am a maximalist at heart; my objective being to leave the viewer lost in detail, always finding something new in my work.
Saralynn joined Society6 on September 9, 2015.