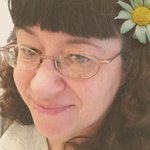 ArtChickStudio
My name is Tina (a.k.a.. Art Chick) and I am a 50-something gal who has always had a passion for the arts and anything creative. I love mixed media, oils, and watercolors. I doodle a lot - especially while talking on the phone - and I also enjoy drawing, digital art, and art journaling. I enjoy creating stained glass and etched glass, and many other types of crafts. I dabble in photography, and also in graphic design. I have a BS in Art Education, as well as a Masters in Education, and a Masters in Educational Technology. I was an art educator for ten years, but I now teach Technology to elementary students. When I'm not working, I am content to be at home, spending time with my family, blogging, doing genealogy, and "playing" in my studio. Find all my art at ArtChickStudio.com And on Facebook at FB.com/ArtChickStudio ArtChickStudio joined Society6 on December 19, 2013
More
My name is Tina (a.k.a.. Art Chick) and I am a 50-something gal who has always had a passion for the arts and anything creative. I love mixed media, oils, and watercolors. I doodle a lot - especially while talking on the phone - and I also enjoy drawing, digital art, and art journaling. I enjoy creating stained glass and etched glass, and many other types of crafts. I dabble in photography, and also in graphic design.
I have a BS in Art Education, as well as a Masters in Education, and a Masters in Educational Technology. I was an art educator for ten years, but I now teach Technology to elementary students. When I'm not working, I am content to be at home, spending time with my family, blogging, doing genealogy, and "playing" in my studio.
Find all my art at ArtChickStudio.com And on Facebook at FB.com/ArtChickStudio
ArtChickStudio joined Society6 on December 19, 2013.