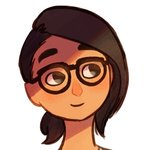 Bonnie
Born and raised in Hong Kong. I've been drawing since I could remember. I studied Geography in the Chinese University of Hong Kong, but I loved to draw so much that I turned my hobby into a profession as I went to study Masters in Fine Arts at the Academy of Art University (AAU) in 2012. Never regretted it! I'm currently a freelance illustrator and comic artist, working with the artist agency Astound. My webtoon Roar Street Journal hosts on Line Webtoon. www.bonniepangart.com Roar Street Journal: http://www.webtoons.com/en/slice-of-life/roar-street-journal/list?title_no=397&page=1 Bonnie joined Society6 on January 16, 2017
More
Born and raised in Hong Kong.
I've been drawing since I could remember. I studied Geography in the Chinese University of Hong Kong, but I loved to draw so much that I turned my hobby into a profession as I went to study Masters in Fine Arts at the Academy of Art University (AAU) in 2012. Never regretted it!
I'm currently a freelance illustrator and comic artist, working with the artist agency Astound. My webtoon Roar Street Journal hosts on Line Webtoon.
www.bonniepangart.com Roar Street Journal: http://www.webtoons.com/en/slice-of-life/roar-street-journal/list?title_no=397&page=1
Bonnie joined Society6 on January 16, 2017.