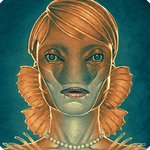 Candice Broersma
My goal is to reveal the unconventional beauty in mundane and unusual subjects. Insects, crustaceans, and physical traits we perceive as defective have inherent value in their design and function. I try to bring this value to the surface with symbolic imagery and established narratives from myth and legend. http://www.candicebroersma.com/ Candice Broersma joined Society6 on June 24, 2017
More
My goal is to reveal the unconventional beauty in mundane and unusual subjects. Insects, crustaceans, and physical traits we perceive as defective have inherent value in their design and function. I try to bring this value to the surface with symbolic imagery and established narratives from myth and legend.
http://www.candicebroersma.com/
Candice Broersma joined Society6 on June 24, 2017.