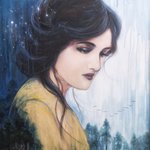 Carrie Martinez
Artist . Muralist . Creatrix . Illustrator . Designer
My Society6 Shops:
★ Main Art + Illustration Shop: Carrie Martinez
★ Abstract Design: Dreams are Fireflies
★ Nature Photography: Wander in Woods
My name is Carrie Wachter Martinez and I am a Florida-based artist, muralist, designer, creative entrepreneur, and mother. My art conveys a lifelong exploration of meditation, astronomy, lucid dreaming, and mysticism inspired by the soul's connection to nature. I am self-taught with 20 years painting and mural experience and my work has been collected and published internationally. Recently I started branching off to embark on two new and very different projects: Dreams are Fireflies is a collection of abstract geometric designs created from my paintings, and Wander in Woods is a collection of ethereal nature photography with hints of magic and fantasy. Through my art, I hope to create a beautiful, peaceful world that inspires a deep soulful interconnection with each other and with nature.
Dreams are Fireflies
I started the project Dreams are Fireflies because I was running out of inspiration to paint and yet I had a burning desire to create art. Not having a lot of time to learn a new medium, I decided to take my existing collection of paintings and turn them into abstract geometric designs using digital photo editing apps. It became a sort of meditation. I would awaken before the kids, light a candle and incense, still my mind and let go of any expectations, and just create. Every design resonates with its own special energy, from the original painting it was made from, to the number of points in the mandala (sacred geometry) and the colors and patterns. I've titled each design to illuminate this unique energy and vibe, like Intuition, Peace, and Wisdom. The name Dreams are Fireflies comes from my childhood in Pennsylvania where fireflies/lightning bugs would illuminate the summer evenings. I've always had a fascination with dreaming, why we dream, what our dreams mean, and how to lucid dream. To me, dreams are like fireflies...elusive and hard to catch, hard to hold on to, dancing in our imagination and fading into forgetfulness the more we try to remember them. With this new collection of geometric designs, I hope to uplift and inspire others to chase their dreams and shine their light.
Wander in Woods
I have always been a lover of nature, spending my childhood in the forests and mountains and then choosing to live in the wild in my adulthood. I gravitate to green spaces and seek the peace of nature. In my early 30's I spent years meditating in the mountains and reclaimed my spiritual practice by connecting with nature to heal and energize my soul. I started Wander in Woods to share the magic of nature through the lens of my camera. Trees, plants, rocks, earth, moon, stars...all have deeply touched my spirit. I hope to share this energy and beauty and remind others of that deep, still, eternal space within that is accessed by watching a sunset or the dancing shadows of the forest canopy. Nature is my muse, come wander with me!
My Society6 Shops:
★ Main Art + Illustration Shop: Carrie Martinez. ★ Abstract Design: Dreams are Fireflies. ★ Nature Inspired Design: Wander in Woods.
★ Website ... www.CarrieMartinez.com
★ Instagram ... www.instagram.com/carriemartinez.artist/
★ Pinterest: www.pinterest.com/CarrieMartinezArtist/
Read more
Carrie Martinez's Store
79 results
Filter