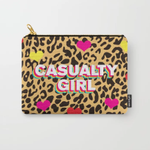 Casualty Girl
Carry-Alls for Life's Everyday Casualties.™
Home of the original All My Diabetes Shit™ and All My Diabetes Stuff™ bags designed in early 2017. The "It Bag" carry-all pouches that started the copycat trend and cult following.
Monica's medical bags have helped thousands of people with chronic medical conditions to easily find and organize their supplies, bring awareness and most important to have fun!
Join the tribe! Follow the Casualty Girl Shop on Instagram @shopcasualtygirl and share your vibe. Tag your photos with @shopcasualtygirl #shopcasualtygirl to be featured.
EMAIL MONICA@MONICAVESCI.COM FOR CUSTOM ORDERS.
Casualty Girl. It's a Mindset.™️
©2021 Casualty Girl. All Rights Reserved.
Read more