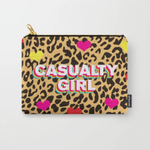 Casualty Girl
Colorful Accessories for Your Everyday Casualties.™
Home of the original All My Diabetes Shit™ and All My Diabetes Stuff™ bags designed in early 2017. The "It Bag" carry-all pouches that started the copycat trend and cult following. Created by @monicavesci Monica Vesci—a Type 1 Diabetic and award winning graphic designer—her professional design career has been focused on health care and patient education. Coupled with her love for fashion—and the need to easily find "all her diabetes shit"— Casualty Girl was born.
Join the tribe! Follow the Casualty Girl Shop on Instagram @shopcasualtygirl and share your vibe. Tag your photos with @shopcasualtygirl #shopcasualtygirl to be featured.
For personalized orders and inquiries: please email hello@casualtygirl.com before making a purchase.
Casualty Girl. It's a Mindset.™️
©2019 Casualty Girl. All Rights Reserved.
Read more
Casualty Girl's Store
Filter