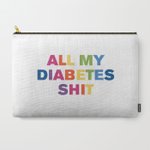 Casualty Girl
Casualty Girl by Monica Vesci // Monica is a professional graphic designer and fine artist based in Copenhagen, Denmark. As a native of Philadelphia, PA, with over fifteen years of professional industry experience, specializing in health care and fashion, she has designed and developed projects for companies and organizations including Aquent, AstraZeneca, Deutsche Bank, JDRF and many others. Her work has been featured several times in Graphic Design USA magazine and she was the recipient of the AstraZeneca Quality of Work award. Her first product design, The Camino Clutch, was well received with accolades from the Huffington Post, 6abc News and countless women with diabetes whom her product has helped. She is passionate about aesthetics, typography and obsessing over details. She is influenced by Scandinavian design, the fashion world and modern pop art including her favorites Keith Haring, James Rosenquist, Roy Lichtenstein and abstract expressionist Willem de Kooning. Her recent works revolve around her life with type 1 diabetes and she takes a keen interest in advocating and energizing others through her designs. She is currently accepting custom orders, product distributors and would be happy to discuss potential collaborations. Please contact hello@casualtygirl.com for questions, rates and availability. Instagram @shopcasualtygirl and @monicavesci Casualty Girl joined Society6 on January 17, 2017
More
Casualty Girl by Monica Vesci //
Monica is a professional graphic designer and fine artist based in Copenhagen, Denmark. As a native of Philadelphia, PA, with over fifteen years of professional industry experience, specializing in health care and fashion, she has designed and developed projects for companies and organizations including Aquent, AstraZeneca, Deutsche Bank, JDRF and many others.
Her work has been featured several times in Graphic Design USA magazine and she was the recipient of the AstraZeneca Quality of Work award. Her first product design, The Camino Clutch, was well received with accolades from the Huffington Post, 6abc News and countless women with diabetes whom her product has helped.
She is passionate about aesthetics, typography and obsessing over details. She is influenced by Scandinavian design, the fashion world and modern pop art including her favorites Keith Haring, James Rosenquist, Roy Lichtenstein and abstract expressionist Willem de Kooning. Her recent works revolve around her life with type 1 diabetes and she takes a keen interest in advocating and energizing others through her designs.
She is currently accepting custom orders, product distributors and would be happy to discuss potential collaborations. Please contact hello@casualtygirl.com for questions, rates and availability.
Instagram @shopcasualtygirl and @monicavesci
Casualty Girl joined Society6 on January 17, 2017.