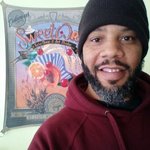 cbabi bayoc
Since becoming a full-time artist in 1995, after graduating from Grambling State University, Cbabi has stayed true to himself by creating what he enjoys. His name, which is an acronym for Creative Black Artist Battling Ignorance and Blessed African Youth of Creativity, allows others to realize his mission and blessing in life. Through his artwork, he is able to show his passion for both music and human expression. He particularly enjoys and feels the need to illustrate images of the black father being responsible in his children's lives. In 2012 he launched his life mission: 365 Days With Dad. The intent was to paint one painting everyday with this theme. Though he only reached 249, the effort alone changed his life. He now is completing that project and intends on even bigger endeavors after that. After working as a caricature artist at Six Flags Over St. Louis, in 1997, Cbabi pursued a career as an illustrator. His first big client was Rap Pages magazine. During the entire year of 1997 he was given the RPM section on a monthly basis to display a caricature of the feature artist. Because of that job, he was approached by Violator Management to do the cover of the Violator Compilation, Vol.1 album (people still remember the cover to this day). Over the years, Cbabi has had the pleasure of working with many more famous and not-so-famous folk. All are equally appreciated. Some clientele include Anheuser-Busch, Coca-Cola, New Line Cinema, St. Louis Post-Dispatch, MCA Records, and singer, songwriter Prince. Born in New Jersey, Cbabi has lived in Louisiana, Illinois, and Korea before making his home in St. Louis with his wife, Reine and children, Jurni Moon, Ajani Day and Birago Soul. cbabi bayoc joined Society6 on January 12, 2013
More
Since becoming a full-time artist in 1995, after graduating from Grambling State University, Cbabi has stayed true to himself by creating what he enjoys. His name, which is an acronym for Creative Black Artist Battling Ignorance and Blessed African Youth of Creativity, allows others to realize his mission and blessing in life. Through his artwork, he is able to show his passion for both music and human expression. He particularly enjoys and feels the need to illustrate images of the black father being responsible in his children's lives. In 2012 he launched his life mission: 365 Days With Dad. The intent was to paint one painting everyday with this theme. Though he only reached 249, the effort alone changed his life. He now is completing that project and intends on even bigger endeavors after that.
After working as a caricature artist at Six Flags Over St. Louis, in 1997, Cbabi pursued a career as an illustrator. His first big client was Rap Pages magazine. During the entire year of 1997 he was given the RPM section on a monthly basis to display a caricature of the feature artist. Because of that job, he was approached by Violator Management to do the cover of the Violator Compilation, Vol.1 album (people still remember the cover to this day).
Over the years, Cbabi has had the pleasure of working with many more famous and not-so-famous folk. All are equally appreciated. Some clientele include Anheuser-Busch, Coca-Cola, New Line Cinema, St. Louis Post-Dispatch, MCA Records, and singer, songwriter Prince.
Born in New Jersey, Cbabi has lived in Louisiana, Illinois, and Korea before making his home in St. Louis with his wife, Reine and children, Jurni Moon, Ajani Day and Birago Soul.
cbabi bayoc joined Society6 on January 12, 2013.