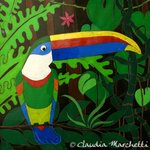 Claudia Marchetti
When I fall asleep, I dream about moving away from the chaos and the stress of the city I live in, the noise and the smell, the anxiety and the pain. I dream about silence and sunlight, a walk in the forest, the scent of a plant kissed by the dew.
Read more
Claudia Marchetti's Store
Filter
You are currently on society6.com.