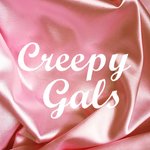 CreepyGals
Hi! My name is Elle. I love to create beautiful aesthetically pleasing design with a dark twist and a pinch of sass. If you want to buy pins, patches, and t-shirts, check out my main website: www.creepygals.com also follow me on Instagram @creepy.gals CreepyGals joined Society6 on January 10, 2017
More
Hi! My name is Elle. I love to create beautiful aesthetically pleasing design with a dark twist and a pinch of sass.
If you want to buy pins, patches, and t-shirts, check out my main website: www.creepygals.com also follow me on Instagram @creepy.gals
CreepyGals joined Society6 on January 10, 2017.
CreepyGals's Store
12 results
Filter