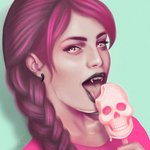 Wendy Stephens
I'm at my happiest with a pencil and sketchbook nearby (supplemented with coffee and biscuits) and I love to draw women, animals and skulls. Most of my illustration work starts as a rough pencil sketch, which I then redraw in pencil on cartridge paper, then add colour in Photoshop. Many people struggle to work out what career they want. Not me. I think of myself as extremely lucky. I wanted to be an artist as soon as I first picked up a pencil. Imagine my excitement as a child, when I realised that I could do the thing I love and get paid for it too. So I studied to be a graphic designer. And that's what I do now. My day job is graphic design, but I also sketch and draw in my spare time to build my illustration portfolio and sell art prints. WEBSITE: www.wendystephens.co.uk ETSY: https://www.etsy.com/uk/shop/WendyStephensArt FACEBOOK: http://bit.ly/west-face INSTAGRAM: http://bit.ly/west-ig MAILING LIST: Signup to my mailing list for updates, new items for sale and the occasional freebie or giveaway: http://bit.ly/west-mail Wendy Stephens joined Society6 on September 28, 2013
More
I'm at my happiest with a pencil and sketchbook nearby (supplemented with coffee and biscuits) and I love to draw women, animals and skulls.
Most of my illustration work starts as a rough pencil sketch, which I then redraw in pencil on cartridge paper, then add colour in Photoshop.
Many people struggle to work out what career they want. Not me. I think of myself as extremely lucky. I wanted to be an artist as soon as I first picked up a pencil. Imagine my excitement as a child, when I realised that I could do the thing I love and get paid for it too. So I studied to be a graphic designer. And that's what I do now. My day job is graphic design, but I also sketch and draw in my spare time to build my illustration portfolio and sell art prints.
WEBSITE: www.wendystephens.co.uk ETSY: https://www.etsy.com/uk/shop/WendyStephensArt FACEBOOK: http://bit.ly/west-face INSTAGRAM: http://bit.ly/west-ig
MAILING LIST: Signup to my mailing list for updates, new items for sale and the occasional freebie or giveaway: http://bit.ly/west-mail
Wendy Stephens joined Society6 on September 28, 2013.