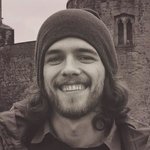 David DelaGardelle
My official website: http://cedarloreforge.com/ I'm a full time professional Swordsmith and illustrator working in the mythopoetic tradition of my Northern family roots. I'm the owner and operator of Cedarlore Forge, my smithy where I bring to life mythopoetic and historical hand forged swords and other works of art. I've worked on films such as Marvel's Thor, the Narrow Road, and the upcoming movie the Lion Awakes, as well as custom projects for museums and collectors in the ancient tradition of my European family roots. Inspired by the works of legends like Tolkien, Lewis, Chesterton, and Bunyan and the mythologies they loved. I aim to forge swords and create mythic works of art that inspire the viewer to venture "further up and further in" in the hunt for joy, beauty, and valor, with the hope of helping the viewer "fight the good fight" by "renewing their mind" http://cedarloreforge.mymiddleearth.com/ David DelaGardelle joined Society6 on April 5, 2012
More
My official website: http://cedarloreforge.com/
I'm a full time professional Swordsmith and illustrator working in the mythopoetic tradition of my Northern family roots.
I'm the owner and operator of Cedarlore Forge, my smithy where I bring to life mythopoetic and historical hand forged swords and other works of art. I've worked on films such as Marvel's Thor, the Narrow Road, and the upcoming movie the Lion Awakes, as well as custom projects for museums and collectors in the ancient tradition of my European family roots. Inspired by the works of legends like Tolkien, Lewis, Chesterton, and Bunyan and the mythologies they loved.
I aim to forge swords and create mythic works of art that inspire the viewer to venture "further up and further in" in the hunt for joy, beauty, and valor, with the hope of helping the viewer "fight the good fight" by "renewing their mind"
http://cedarloreforge.mymiddleearth.com/
David DelaGardelle joined Society6 on April 5, 2012.