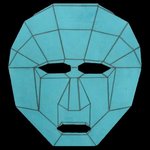 John Pierson
I am an artist who lives in Chicago. I make paintings, drawings, collages, globes, digital art, and painted rocks.
A lot of my pieces have a three-dimensional quality. First, I visualize an abstract image in my mind, then I draw a rough sketch of it on paper, then I make the piece by hand or by computer.
My goal is to make good art and sell it at an affordable price. In this time of rising prices and stagnant wages it is important for artists to sell their art at a price that most people can afford. That way people who aren't rich can have art in their home.
All the art on my Society 6 page is made by me.
To buy original pieces of my art go to https://www.etsy.com/shop/ChicagoArtShop
To buy my models of planets, moons, stars, comets, and asteroids go to https://www.etsy.com/shop/SpaceArt3
My Facebook art page is https://www.facebook.com/Art-by-John-Pierson-1573265462964565/
Read more
John Pierson's Store
Filter