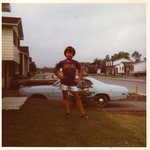 Dominic Bugatto
Dominic Bugatto was born in Bradford, England, and spent his formative years growing up in the West end of Montreal. Film noir of the '40s, vintage comic strips, hot rods, psychobilly & rockabilly and jazz are continual sources of inspiration for his work. CLIENTS :: The New York Times, Vanity Fair ,Washington Post, L.A. Times, Wall Street Journal,The Village Voice, Penguin Books, Simon & Schuster, VIBE Magazine , Boston Globe, Men's Health, Washington Times, U.S. News,PC World, RayGun , FHM, Billboard Magazine, EMI, Forbes, Advertising Age, Globe and Mail, Details , Disney, Readers Digest, NBA, Loaded UK, ESPN Magazine , Ratrod Magazine , Marketing Mag, Conde Nast Recognition :: Editorial Series Communication Arts Illustration Annual , U.S. Library of Congress Collection Dominic Bugatto joined Society6 on November 15, 2013
More
Dominic Bugatto was born in Bradford, England, and spent his formative years growing up in the West end of Montreal. Film noir of the '40s, vintage comic strips, hot rods, psychobilly & rockabilly and jazz are continual sources of inspiration for his work.
CLIENTS :: The New York Times, Vanity Fair ,Washington Post, L.A. Times, Wall Street Journal,The Village Voice, Penguin Books, Simon & Schuster, VIBE Magazine , Boston Globe, Men's Health, Washington Times, U.S. News,PC World, RayGun , FHM, Billboard Magazine, EMI, Forbes, Advertising Age, Globe and Mail, Details , Disney, Readers Digest, NBA, Loaded UK, ESPN Magazine , Ratrod Magazine , Marketing Mag, Conde Nast
Recognition :: Editorial Series Communication Arts Illustration Annual , U.S. Library of Congress Collection
Dominic Bugatto joined Society6 on November 15, 2013.
Dominic Bugatto's Store
46 results
Filter