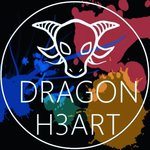 DRAGONH3ART
WELCOME TO DRAGONH3ART For the Artsy Boss! Instagram @dragonh3art_designs Annesha Gordon is the energetic artist behind DRAGONH3ART. Each item is unique and heavily influenced by Japanese media and modern street fashions New York City. Her work continues to be embraced by fans around the world DRAGONH3ART joined Society6 on May 11, 2016
More
WELCOME TO DRAGONH3ART For the Artsy Boss!
Instagram @dragonh3art_designs
Annesha Gordon is the energetic artist behind DRAGONH3ART. Each item is unique and heavily influenced by Japanese media and modern street fashions New York City. Her work continues to be embraced by fans around the world
DRAGONH3ART joined Society6 on May 11, 2016.