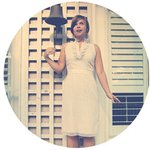 Elizabeth Olwen
Elizabeth Olwen is a Toronto-based surface designer. Inspired by pastoral beauty, nature in its most playful forms, folklore, and romance, Elizabeth's work is driven by the desire to leave something beautiful behind with every step she takes. Her obsession with patterns began as a child when she would become mesmerized by the orange floral drapes in her mother's kitchen. Surrounded by bold, unapologetic prints, patterns were something that she could lose herself in; a window to faraway places. Through the years, the love of patterns remained, and inspired her to start making her own. Elizabeth loves old wallpapers and vintage fabrics, cannot be forced to choose a favourite colour, and is hopelessly devoted to travel. Elizabeth Olwen joined Society6 on May 7, 2012
More
Elizabeth Olwen is a Toronto-based surface designer. Inspired by pastoral beauty, nature in its most playful forms, folklore, and romance, Elizabeth's work is driven by the desire to leave something beautiful behind with every step she takes.
Her obsession with patterns began as a child when she would become mesmerized by the orange floral drapes in her mother's kitchen. Surrounded by bold, unapologetic prints, patterns were something that she could lose herself in; a window to faraway places. Through the years, the love of patterns remained, and inspired her to start making her own.
Elizabeth loves old wallpapers and vintage fabrics, cannot be forced to choose a favourite colour, and is hopelessly devoted to travel.
Elizabeth Olwen joined Society6 on May 7, 2012.