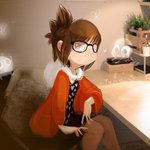 Foya
I'm a 30 years old french artist, working under the pseudo "Foya". I began my freelance career in 2009, after several years in the animation and video game industry. I'm now full time living from my own art. Being a jack of all trades, I love to paint and experiment , using different tools, from traditional watercolors to digital softwares . I create whimsical worlds. Monsters and strange creatures inspired by nature and folklore living inside... Thank you so much for stopping by, I hope you will enjoy my work. Feel free to drop me a line if you want to get in touch. I'm always glad to answer your questions, so don't be shy ! :) Find me elsewhere on the web : www.foyaland.com www.etsy.foyaland.com www.facebook.com/FoyaLand www.instagram.com/foyaland/ www.foyaland.tumblr.com www.foyaland.deviantart.com/ Foya joined Society6 on June 10, 2015
More
I'm a 30 years old french artist, working under the pseudo "Foya". I began my freelance career in 2009, after several years in the animation and video game industry. I'm now full time living from my own art.
Being a jack of all trades, I love to paint and experiment , using different tools, from traditional watercolors to digital softwares . I create whimsical worlds. Monsters and strange creatures inspired by nature and folklore living inside...
Thank you so much for stopping by, I hope you will enjoy my work. Feel free to drop me a line if you want to get in touch. I'm always glad to answer your questions, so don't be shy ! :)
Find me elsewhere on the web :
www.foyaland.com www.etsy.foyaland.com www.facebook.com/FoyaLand www.instagram.com/foyaland/ www.foyaland.tumblr.com www.foyaland.deviantart.com/
Foya joined Society6 on June 10, 2015.