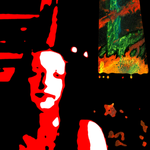 Metamorview
My main art work are NeoDADA paintings with oil, pastel, charcoal and silverbronze on Ingres paper. On my artistic way I discovered digital art in combination with fotomanipulation. During some long party and dance nights I create psychedelic light art shows with dia projection of my own art work and the work of friends. You can also find me here: • www.gelarie.de • https://plus.google.com/u/0/+GelaSchmidt • https://500px.com/gela2 • https://www.pinterest.com/gela1181/ Metamorview joined Society6 on November 6, 2015
More
My main art work are NeoDADA paintings with oil, pastel, charcoal and silverbronze on Ingres paper. On my artistic way I discovered digital art in combination with fotomanipulation. During some long party and dance nights I create psychedelic light art shows with dia projection of my own art work and the work of friends.
You can also find me here: • www.gelarie.de • https://plus.google.com/u/0/+GelaSchmidt • https://500px.com/gela2 • https://www.pinterest.com/gela1181/
Metamorview joined Society6 on November 6, 2015.