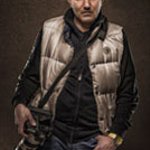 GL-ART-PHOTOGRAPHY
Hello profile visitor/in, I am pleased that you are interested in my pictures and me ): I also would be very much pleased if you would write something to my pictures;-) You find me at facebook here: http://www. facebook. com/gl. art. photography I get from the Black Forest from Germany nearby. All pictures shown here are my personal property undunterliegen the copyright ©. The pictures may not be stored on a data carrier or further given to third parties without my express approval used, duplicated. Space pictures shown here ares My personal property and it is need allowed to use Swiss Code of Obligations copy them without My explicit approval. © Gregor Luschnat I like to receive picture enquiries: info@gl-art-photography. de You say hello Gregor Luschnat www. gl-art-photography. de GL-ART-PHOTOGRAPHY joined Society6 on November 20, 2013
More
Hello profile visitor/in, I am pleased that you are interested in my pictures and me ): I also would be very much pleased if you would write something to my pictures;-) You find me at facebook here: http://www. facebook. com/gl. art. photography I get from the Black Forest from Germany nearby.
All pictures shown here are my personal property undunterliegen the copyright ©. The pictures may not be stored on a data carrier or further given to third parties without my express approval used, duplicated. Space pictures shown here ares My personal property and it is need allowed to use Swiss Code of Obligations copy them without My explicit approval. © Gregor Luschnat
I like to receive picture enquiries: info@gl-art-photography. de
You say hello Gregor Luschnat www. gl-art-photography. de
GL-ART-PHOTOGRAPHY joined Society6 on November 20, 2013.