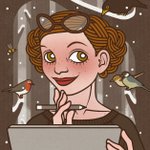 Iris Luckhaus
Iris Luckhaus is a freelance illustrator, stylist and designer (MoD, Fashion Class Vivienne Westwood, University of the Arts Berlin).
Her passion is visual storytelling, always with a friendly approach and often in details noone might see at first sight, and she loves to dig deep into researches, particularly about flora and fauna. In reknown anthologies like Illustration Now!, Freistil or Illusive, she is repeatedly featured as one of the "world's best illustrators". Iris Luckhaus is currently living in Wuppertal and Berlin and creating for clients from all over the world.
If you miss any products or designs here, please kindly let us know (post@irisluckhaus.de), and we'll see what we can do!
Read more