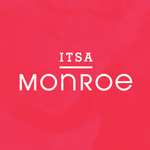 itsamonroe
Welcome to itsamonroe, currently featuring the Posterized Parks series. Ash, the brain and heart behind itsamonroe, is a freelance graphic designer and illustrator who grew up in the desert of Southern California, cut her teeth on art and design in Los Angeles, and is currently a citizen of the world. She would get absolutely nothing done without coffee, music, and thoughtful critiques from her corgi sidekick, Moose. The Posterized Parks series is her current personal project, and helps keep her close to one of her favorite parts of home. You can see more of the designs at itsamonroe.tumblr.com itsamonroe joined Society6 on September 7, 2014
More
Welcome to itsamonroe, currently featuring the Posterized Parks series.
Ash, the brain and heart behind itsamonroe, is a freelance graphic designer and illustrator who grew up in the desert of Southern California, cut her teeth on art and design in Los Angeles, and is currently a citizen of the world. She would get absolutely nothing done without coffee, music, and thoughtful critiques from her corgi sidekick, Moose.
The Posterized Parks series is her current personal project, and helps keep her close to one of her favorite parts of home. You can see more of the designs at itsamonroe.tumblr.com
itsamonroe joined Society6 on September 7, 2014.