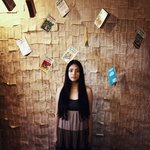 Johanna Velasco
Hello My name is Johanna Velasco Deutsch. I am an illustrator, photographer and designer from Cebu, Philippines. I spend my days drawing, painting, taking photographs, sharing stories and wandering the streets. I find myself attracted to the strange and beautiful, to whimsical things tinged with melancholy and the in-between places where things are not quite what they seem. www.johannavelasco.com Johanna Velasco joined Society6 on August 2, 2009
More
Hello My name is Johanna Velasco Deutsch. I am an illustrator, photographer and designer from Cebu, Philippines. I spend my days drawing, painting, taking photographs, sharing stories and wandering the streets. I find myself attracted to the strange and beautiful, to whimsical things tinged with melancholy and the in-between places where things are not quite what they seem.
www.johannavelasco.com
Johanna Velasco joined Society6 on August 2, 2009.