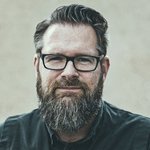 Johannes Huwe
His current series "World of Speed" documents the daredevil racing on the dried-out El Mirage salt lake in California's Mojave Desert. Huwe attended the racing event over several years and observed as the desolate desert landscape was transformed into a racetrack for a few days each year. In addition to numerous exhibitions, Huwe's work has appeared in Lifestyle and Automagazine like the Автопилот (Autopilot) magazine from Moskow. For his documentary work, Huwe travels around the globe to remote spots including the Atacama desert in Chile, Greenland to craft a portrait of the indigenous Inuit people or a several week-long expedition to Antarctica. Huwe still prefers to use analog photography for his work. In addition to various galleries, Huwe has a large customer base, including Burger King USA, which has used his photos in their ad campaigns. Website www.johanneshuwe.com Facebook: facebook.com/johanneshuwe.cc Twitter: twitter.com/johanneshuwe Johannes Huwe joined Society6 on January 19, 2014
More
His current series "World of Speed" documents the daredevil racing on the dried-out El Mirage salt lake in California's Mojave Desert. Huwe attended the racing event over several years and observed as the desolate desert landscape was transformed into a racetrack for a few days each year. In addition to numerous exhibitions, Huwe's work has appeared in Lifestyle and Automagazine like the Автопилот (Autopilot) magazine from Moskow.
For his documentary work, Huwe travels around the globe to remote spots including the Atacama desert in Chile, Greenland to craft a portrait of the indigenous Inuit people or a several week-long expedition to Antarctica. Huwe still prefers to use analog photography for his work.
In addition to various galleries, Huwe has a large customer base, including Burger King USA, which has used his photos in their ad campaigns.
Website www.johanneshuwe.com Facebook: facebook.com/johanneshuwe.cc Twitter: twitter.com/johanneshuwe
Johannes Huwe joined Society6 on January 19, 2014.
Johannes Huwe's Store
541 results
Filter