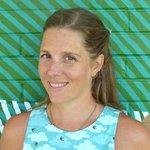 Kelly Johnson/ Wings, Worms, and Wonder
I seek to inspire the creative connections between humans and nature through the arts! I hope my art and these products spark your sense of wonder and encourage you to get out and make nature inspired art too - or maybe just lay in the shade and have a picnic!
I invite you to dive right in to the world of Wings, Worms, and Wonder!
*Follow me on Instagram @wingswormsandwonder
*Check out my website and blog for tons of tips tricks, ideas, and resource for creatively connecting with nature at wingswormsandwonder.com !
*Like what you see here, but wish it was handmade? Well I have an Etsy shop stocked with more notebooks and cards made from original paintings! You'll also find my 3 books there, stickers, stocked hand sewn nature journal pouches, and more! etsy.com/shop/WingsWormsAndWonder
*Want to sew your own creations from Wings, Worms, and Wonder watercolor illustrations? Head to my Spoonflower shop! spoonflower.com/profiles/wingswormsandwonder
& Thank you for supporting artists!
Read more