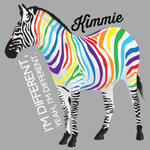 Kimberly Marie
Hi there, I'm Kimberly Marie, aka Kimmie, aka Kimmiekins. I'm 38 years old, and I live in Cincinnati, OH USA.
I'm a major geek girl and gamer girl. I love designing, especially patterns. Chevron is my favorite type of pattern, but I love dots, argyle and stripes too. Pink is my favorite color, but I love rainbows too.
I'm an entrepreneur, I have many shops like this one, as well as an up and coming Etsy shop, which will feature my handmade greeting cards and other handmade items. Basically, I love to create, either on the computer or with my hands.
Please feel free to contact me for anything, be it customizing an item, or just to say hello!
Read more
Kimberly Marie's Store
Filter