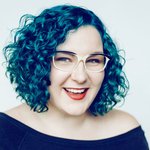 Letter Shoppe
I'm Dina Rodriguez, a hand lettering artist in Portland, OR. I take great pride in my work and apply my 10 years of design experience to every new piece I take on. I work purely out of love for what I do in an effort make the world a more beautiful place. I created Letter Shoppe back in 2010 to express my voice in a way that is more compelling than just words on a screen, but something people can interact with on a much more intimate level. Art that can actually make a difference. To learn more about me and view my portfolio visit lettershoppe.com Letter Shoppe joined Society6 on November 28, 2014
More
I'm Dina Rodriguez, a hand lettering artist in Portland, OR. I take great pride in my work and apply my 10 years of design experience to every new piece I take on. I work purely out of love for what I do in an effort make the world a more beautiful place.
I created Letter Shoppe back in 2010 to express my voice in a way that is more compelling than just words on a screen, but something people can interact with on a much more intimate level. Art that can actually make a difference.
To learn more about me and view my portfolio visit lettershoppe.com
Letter Shoppe joined Society6 on November 28, 2014.