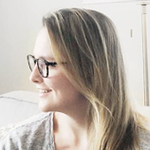 maggieedkins
Designer, illustrator, letterer, and lover of bright colors and books. Mom to a devious huskimo puppy named Mozzarella. Based in New Jersey and NYC. Please reach out! If you've purchased one of my items, I'd love to hear from you. Tag me on instagram or use #maggiemadethis to let me see your post! maggie.edkins@gmail.com www.maggiemadethis.com @maggie.made.this maggieedkins joined Society6 on September 4, 2015
More
Designer, illustrator, letterer, and lover of bright colors and books. Mom to a devious huskimo puppy named Mozzarella. Based in New Jersey and NYC.
Please reach out! If you've purchased one of my items, I'd love to hear from you. Tag me on instagram or use #maggiemadethis to let me see your post!
maggie.edkins@gmail.com www.maggiemadethis.com @maggie.made.this
maggieedkins joined Society6 on September 4, 2015.