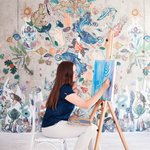 Markovka
Markovka is a Russian-based surface designer who creates unique ornaments, detailed floral designs, and various other nature-inspired illustrations. Her patterns are dreamy and full of tangled lines and fantasy plants. Markovka has a passion for nature and color that distinguishes her work. At the moment happily focused on things she loves best during her travelling: draw tangled ornaments and watercolor patterns. List of links to my resources: Website: http://pridumala.ru/ Instagram: https://www.instagram.com/lubovmarkov/ Shutterstock-portfolio (more than 9,000 illustrations) http://shutterstock.com/g/markovka Email: ira@pridumala.ru Markovka joined Society6 on October 22, 2012
More
Markovka is a Russian-based surface designer who creates unique ornaments, detailed floral designs, and various other nature-inspired illustrations. Her patterns are dreamy and full of tangled lines and fantasy plants. Markovka has a passion for nature and color that distinguishes her work. At the moment happily focused on things she loves best during her travelling: draw tangled ornaments and watercolor patterns.
List of links to my resources:
Website: http://pridumala.ru/
Instagram: https://www.instagram.com/lubovmarkov/
Shutterstock-portfolio (more than 9,000 illustrations) http://shutterstock.com/g/markovka
Email: ira@pridumala.ru
Markovka joined Society6 on October 22, 2012.