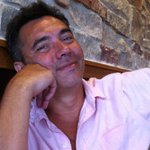 Matt Pecson
I create modern art, in a style that's all my own. Impressionism, Expressionism, Abstract Art, Pop Art and more are synthesized into true Post Modern Art. Much of my art celebrates the work of other American artists. Jimi Hendrix, The Grateful Dead, Janis Joplin, Johnny Cash and Elvis just to name a few. WEBSITE/BLOG http://www.mattpecson.com ONLINE STORES Etsy https://www.etsy.com/shop/mattpecson (original art) Society6 http://society6.com/mattpecson (prints, home decor, etc.) SOCIAL MEDIA Facebook https://www.facebook.com/brokenrecordsart Instagram http://instagram.com/mattpecson Matt draws much of his influence from his love of art and music, from his travels and from his 1st generation Filipino American heritage. Major influences include: Music of The Doors, Charlie "Bird" Parker, Billie Holiday and Jimi Hendrix Following The Grateful Dead ("the Dead") Hawaiian culture and Surfing culture Psychedelic concert art of the 60's, Rick Griffin Jean Michel Basquiat, Keith Haring, Andy Warhol - the 80's New York City art scene Marcel Duchamp, Willem de Kooning Asian Brush Painting or Sumi-e Matts work is also influenced by a condition called "synesthesia", which is a mixing of the senses. This sometimes results in playful colorful paintings which seem to come alive with motion. In addition to traditional canvas, Matt often employs unconventional or recycled surfaces as canvas. He uses broken or scratched records, or old wood pallets, fences or doors, or even old paintings that he finds at thrift stores. Matt studied fine art at Mount St. Mary's College in Maryland, with additional studies at the Corcoran School of Art and Design. He also participated in study abroad in Europe. Matt recently returned to painting after a 20 year hiatus. He spent most of his career working in printing and graphic design. Matt spent most of his life in the Washington DC area, but now lives and works in Sarasota, Florida. Matt Pecson joined Society6 on December 22, 2014
More
I create modern art, in a style that's all my own. Impressionism, Expressionism, Abstract Art, Pop Art and more are synthesized into true Post Modern Art.
Much of my art celebrates the work of other American artists. Jimi Hendrix, The Grateful Dead, Janis Joplin, Johnny Cash and Elvis just to name a few.
WEBSITE/BLOG http://www.mattpecson.com
ONLINE STORES Etsy https://www.etsy.com/shop/mattpecson (original art) Society6 http://society6.com/mattpecson (prints, home decor, etc.)
SOCIAL MEDIA Facebook https://www.facebook.com/brokenrecordsart Instagram http://instagram.com/mattpecson
Matt draws much of his influence from his love of art and music, from his travels and from his 1st generation Filipino American heritage. Major influences include:
Music of The Doors, Charlie "Bird" Parker, Billie Holiday and Jimi Hendrix Following The Grateful Dead ("the Dead") Hawaiian culture and Surfing culture Psychedelic concert art of the 60's, Rick Griffin Jean Michel Basquiat, Keith Haring, Andy Warhol - the 80's New York City art scene Marcel Duchamp, Willem de Kooning Asian Brush Painting or Sumi-e
Matts work is also influenced by a condition called "synesthesia", which is a mixing of the senses. This sometimes results in playful colorful paintings which seem to come alive with motion.
In addition to traditional canvas, Matt often employs unconventional or recycled surfaces as canvas. He uses broken or scratched records, or old wood pallets, fences or doors, or even old paintings that he finds at thrift stores.
Matt studied fine art at Mount St. Mary's College in Maryland, with additional studies at the Corcoran School of Art and Design. He also participated in study abroad in Europe. Matt recently returned to painting after a 20 year hiatus. He spent most of his career working in printing and graphic design. Matt spent most of his life in the Washington DC area, but now lives and works in Sarasota, Florida.
Matt Pecson joined Society6 on December 22, 2014.