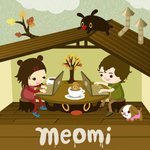 Meomi
MEOMI is Vicki Wong and Michael Murphy. Meomi enjoys spending their time making up silly stories, drinking tea, and drawing strange creatures. They are the author/illustrator duo behind the bestselling 'Octonauts' books series. Their artwork has been featured in numerous illustration and design books, while their characters have appeared on clothing, toys, merchandise, and magazines worldwide. http://www.meomi.com http://www.octonauts.com Meomi joined Society6 on August 26, 2011
More
MEOMI is Vicki Wong and Michael Murphy. Meomi enjoys spending their time making up silly stories, drinking tea, and drawing strange creatures. They are the author/illustrator duo behind the bestselling 'Octonauts' books series. Their artwork has been featured in numerous illustration and design books, while their characters have appeared on clothing, toys, merchandise, and magazines worldwide.
http://www.meomi.com http://www.octonauts.com
Meomi joined Society6 on August 26, 2011.