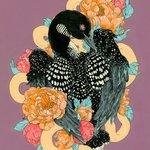 Niky Motekallem
Niky Motekallem is a recent MFA Illustration graduate from the Minneapolis College of Art and Design, originally from Ohio. She now lives in the Twin Cities She depicts flora and fauna in beautiful decay. Death isn't the end in her narrative. But rather a cycle of matter and energy. Sometimes Niky will write and illustrate eerie stories. Especially those about home. When she isn't working in the studio, Niky is snuggling cats, drinking all the tea, exploring antique shops, walking through forests for floral bouquets, and watching silly volleyball anime. Niky Motekallem joined Society6 on December 31, 2014
More
Niky Motekallem is a recent MFA Illustration graduate from the Minneapolis College of Art and Design, originally from Ohio. She now lives in the Twin Cities
She depicts flora and fauna in beautiful decay. Death isn't the end in her narrative. But rather a cycle of matter and energy. Sometimes Niky will write and illustrate eerie stories. Especially those about home.
When she isn't working in the studio, Niky is snuggling cats, drinking all the tea, exploring antique shops, walking through forests for floral bouquets, and watching silly volleyball anime.
Niky Motekallem joined Society6 on December 31, 2014.