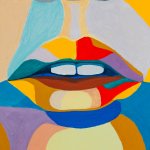 Rocio Montoya
Rocio Montoya is an illustrator, collage maker and photographer based in Madrid, Spain. Her specialty is the experimental photography and collage, land on which has moved from its creative inception.
Her interest is particularly focused on the portrait, approached through different plastic techniques and always with photography as the essential basis of each final artwork . Throughout her career as an artist she make a personal exploration of behaviors and emotional states of the human being, transforming reality by manipulating the image to convey their perception of the environment through aesthetic experiences. She immersed herself in the field of visual arts by curiosity to express her concerns and the need to seek beauty as a means of escape and personal enjoyment. Her admiration for painting and surrealism is evident in addressing their creations, which you can see a clear trend to recreate atmospheres and distant situations to pure documentary reality, characterized by a delicate, haunting and poetic graphic style.
The human body in synergy with nature, the female figure and the loss of identity are the conceptual basis of her work.
One of her most recent interests is illustration, a field in which she began to submerge more conscientiously in 2018. With techniques such as watercolor, graphite and gouache Rocío has tackles new creations with a powerful chromatic charge and with women again as protagonists.
In addition to her personal work, Rocio Montoya has done numerous fashion editorials and has worked as a newspaper photojournalist. Currently she lives in Madrid.
http://www.rociomontoya.com
Read more
Rocio Montoya's Store
Filter