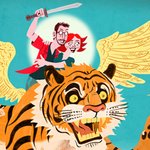 Samuel Washburn
Sam Washburn is an Oklahoma based illustrator whose work has been recognized by 3x3, American Illustration, CMYK, Creative Quarterly and others.
His love of art started when he was 5 years old. That's when he realized his goal in life was draw and make art. From there, he went to as many camps, symposiums, and programs until finally heading to Washington University in St. Louis where he earned a BFA in Communication Design. Over the years, he became more involved in the illustration community- going to the Illustration Academy and ICON. He hung his hat in 2009 as a freelance graphic designer and illustrator. And so Washburn Illustration began.
After an extremely successful craft show, my partner Kaylee and I decided it was time to sell Washburn Illustration on Etsy. With Kaylee handling the "business" side of the shop, I get to spend more time doing what I love best- illustrating and making great artwork for Etsyians!
Read more