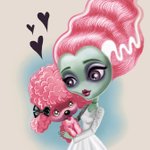 Sandra Vargas
Hi! I'm Sandra Vargas, an independent graphic designer and illustrator based in Northern California.
My work is a combination of both traditional media and digital techniques. My characters are created with love and attention to details, giving them it's own personality with little stories behind them, making each of them so special and unique!
My big eyed girls and whimsical fauna are inspired by nature, story books and fairy tales. Part of my work is dark and eerie, inspired by the stories of Edgar A. Poe or the imagery of Tim Burton to name some of my favorites. On the other hand, my work is sweet and colorful, reminiscent of story books from my childhood and my playful inner child. Join me to a creative journey through my imaginary world!
My work can be found here in Society6 and also in the following sites:
http://sandragrafik.etsy.com http://www.redbubble.com/people/sandygrafik http://www.zazzle.com/sandygrafik* http://sandygrafik_arts.imagekind.com http://www.artflakes.com/en/shop/sandygrafik
Follow me on FB!
https://www.facebook.com/Sandra.Vargas.Art
Website:
http://www.sandravargas-art.com
Read more