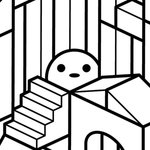 Stephen Chan
Illustration | Design | Animation
website - http://www.stephen-chan.co.uk/ instagram - http://www.instagram.com/stephen_chan_ twitter - http://www.twitter.com/stephen_chan_
---
Over the past few years, Stephen has been working as a freelance Illustrator and designer in England, with clients such as : BBC / Coca-Cola / Esquire magazine / Fast Company magazine / Fortune magazine / Facebook / General Electric / Harvard Business Review / McDonalds / Penguin Books / Tiger Beer / etc.
His works have been in several magazines and books, exhibited in Beijing / Berlin / Boston / Cambodia / Hanoi / Hong Kong / Liverpool / London / Manila / Melbourne / Singapore / Tokyo and several other cities.
He is mainly self taught, "I like to experiment and try to push my illustration style in to new areas and disciplines." He says, "It's mostly character and narrative driven, often involve isometric landscapes and scenery."
Read more