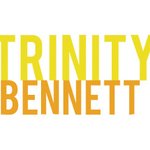 Trinity Bennett
I am a professional photographer and an amateur artist. I love all outlets of creativity and am always trying new things. If you like my stuff, let me know! I am new to Society6 and to selling my artwork, so any feedback would help me out. Have a great day and thanks for stopping by!! On Facebook at: https://www.facebook.com/pages/Trinity-Bennett-Photography-and-Productions/201646339851533?ref=br_rs Trinity Bennett joined Society6 on January 14, 2013
More
I am a professional photographer and an amateur artist. I love all outlets of creativity and am always trying new things. If you like my stuff, let me know! I am new to Society6 and to selling my artwork, so any feedback would help me out. Have a great day and thanks for stopping by!!
On Facebook at: https://www.facebook.com/pages/Trinity-Bennett-Photography-and-Productions/201646339851533?ref=br_rs
Trinity Bennett joined Society6 on January 14, 2013.