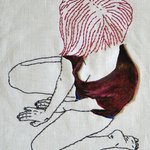 tsurubride
TsuruBride is the art of Meghan Willis. My mother first taught me to sew when I was 6 years old and desperate to make ill-fitting clothes for my Barbie doll. Over the years this morphed into a love of, and eventually degree in, fashion design. By day I work in the apparel industry, and by night I explore the art of undressing, movement, and sensuality through embroidery. I turned to textile art in 2011, as a way to recharge my creative juices when my previous endeavor turned into more of a business than I was willing to tackle, and stopped being the creative outlet I longed for. Now, I partner with my photographer husband, to celebrate women: their strengths and sexuality. tsurubride joined Society6 on January 22, 2013
More
TsuruBride is the art of Meghan Willis.
My mother first taught me to sew when I was 6 years old and desperate to make ill-fitting clothes for my Barbie doll. Over the years this morphed into a love of, and eventually degree in, fashion design. By day I work in the apparel industry, and by night I explore the art of undressing, movement, and sensuality through embroidery. I turned to textile art in 2011, as a way to recharge my creative juices when my previous endeavor turned into more of a business than I was willing to tackle, and stopped being the creative outlet I longed for. Now, I partner with my photographer husband, to celebrate women: their strengths and sexuality.
tsurubride joined Society6 on January 22, 2013.
tsurubride's Store
101 results
Filter