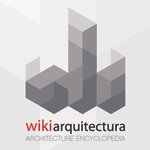 WikiArquitectura
WikiArquitectura has been providing high quality architecture information to architecture students and professionals for free since 2007. We've recently expanded our offering of original content to images too and would now like to share them with you on our Society6 store. -------------------------------------------------------------------------------- WikiArquitecutra lleva facilitando contenido de arquitectura de alta calidad de forma gratuita desde 2007. Recientemente hemos expandido nuestra oferta de contenidos propios también al ámbito de la fotografía y nos gustaría poder compartir algunas de esas imágenes con vosotros a través de nuestra tienda en Society6. WikiArquitectura joined Society6 on June 6, 2014
More
WikiArquitectura has been providing high quality architecture information to architecture students and professionals for free since 2007.
We've recently expanded our offering of original content to images too and would now like to share them with you on our Society6 store.
---
WikiArquitecutra lleva facilitando contenido de arquitectura de alta calidad de forma gratuita desde 2007.
Recientemente hemos expandido nuestra oferta de contenidos propios también al ámbito de la fotografía y nos gustaría poder compartir algunas de esas imágenes con vosotros a través de nuestra tienda en Society6.
WikiArquitectura joined Society6 on June 6, 2014.