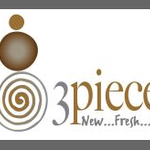 3 Piece Urban Artisan
3 Piece embodies the spirit that birthed Hip Hop. 3 Piece is empowered by the New, Fresh and Funky. 3 Piece lives for music, thrift store sojourns and creation. 3 Piece is a manifestation of the term Abracadabra which translates to the phrase "I create as I speak". Our website is www.3pieceonline.com where you will find our artisan soy and beeswax candles, handcrafted coasters and mixed media tables. Our twitter/tumblr/facebook/pinterest/instagram handles are @3pieceonline 3 Piece Urban Artisan joined Society6 on December 30, 2015
More
3 Piece embodies the spirit that birthed Hip Hop. 3 Piece is empowered by the New, Fresh and Funky. 3 Piece lives for music, thrift store sojourns and creation. 3 Piece is a manifestation of the term Abracadabra which translates to the phrase "I create as I speak".
Our website is www.3pieceonline.com where you will find our artisan soy and beeswax candles, handcrafted coasters and mixed media tables.
Our twitter/tumblr/facebook/pinterest/instagram handles are @3pieceonline
3 Piece Urban Artisan joined Society6 on December 30, 2015.