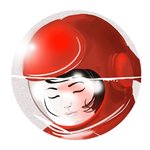 7115
I'm Liis Roden, an artist from tiny Northern European country Estonia. My medium is both digital and good old paper/pencil/pen. I love to experiment with different styles and ideas. Everything is inspiration! And - inspiration is everything! All my designs and images are my original artwork and submitted in top quality max resolution. Please note: All Copyrights to the works belong to the artist. *Dear friends&supporters, send pix of stuff you bought here >> lab7115(at)gmail(com). Thank you! Would love to see my art around the world! :) 7115 joined Society6 on October 25, 2015
More
I'm Liis Roden, an artist from tiny Northern European country Estonia. My medium is both digital and good old paper/pencil/pen. I love to experiment with different styles and ideas. Everything is inspiration! And - inspiration is everything!
All my designs and images are my original artwork and submitted in top quality max resolution. Please note: All Copyrights to the works belong to the artist.
*Dear friends&supporters, send pix of stuff you bought here >> lab7115(at)gmail(com). Thank you! Would love to see my art around the world! :)
7115 joined Society6 on October 25, 2015.