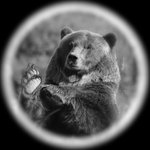 Alaskan Momma Bear
Female photographer born and raised in Alaska, but recently transplanted in America's southwestern desert. For sales unique to my store use my promo code: https://society6.com/alaskanmommabear?promo=7WXYVTZB3HVF For my work on different products check-out my other stores: https://www.redbubble.com/people/alsknmommabear2 (for mini skirts, dresses, scarves, iPhone wallets and posters) https://liveheroes.com/en/brand/alaskan-momma-bear (for swimsuits, children's clothing, hat & gloves, and zipped hoodies) All photos and art displayed in Alaskan Momma Bear's store is copy-right protected and may not be reproduced, copied, edited, published or transmitted without written permission. My Email: AlaskanmommabearOriginal@gmail.com Alaskan Momma Bear joined Society6 on November 14, 2014
More
Female photographer born and raised in Alaska, but recently transplanted in America's southwestern desert.
For sales unique to my store use my promo code: https://society6.com/alaskanmommabear?promo=7WXYVTZB3HVF
For my work on different products check-out my other stores: https://www.redbubble.com/people/alsknmommabear2 (for mini skirts, dresses, scarves, iPhone wallets and posters)
https://liveheroes.com/en/brand/alaskan-momma-bear (for swimsuits, children's clothing, hat & gloves, and zipped hoodies)
All photos and art displayed in Alaskan Momma Bear's store is copy-right protected and may not be reproduced, copied, edited, published or transmitted without written permission.
My Email: AlaskanmommabearOriginal@gmail.com
Alaskan Momma Bear joined Society6 on November 14, 2014.