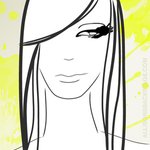 Allison Reich
Hello.... my name is Allison Reich. I'm a graphic artist/illustrator and web designer as well! I work with LightningHammer.com as a design coordinator.
My Portfolio: http://www.allisonreich.com Official blog: http://blog.allisonreich.com Tumblr Blog: http://allisonreich.tumblr.com
Ive been doing graphics and web design well over 10 years now. I love to use all mediums, different styles, etc. I just love it and I hope it shows in my work!
Read more