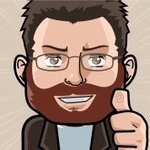 ARTbyGUNTHER
Otto Gunther gave up a career in the medical IT world in order to pursue creativity and passion in all its forms. His art draws heavily from the shapes he sees in the world around him and his fascination with geometric spaces. Born in Santa Cruz, California, Otto has lived all over the country from the U.S. Virgin Islands to Maryland. He met his true love, wife and muse a few years back and settled down with her in Georgia. Together they dream of moving to New Zealand to live out their lives in rural bliss. You can find out more about Otto and his work at the following sites: http://plus.google.com/u/0/107036211838733226416 ARTbyGUNTHER joined Society6 on March 21, 2012
More
Otto Gunther gave up a career in the medical IT world in order to pursue creativity and passion in all its forms. His art draws heavily from the shapes he sees in the world around him and his fascination with geometric spaces.
Born in Santa Cruz, California, Otto has lived all over the country from the U.S. Virgin Islands to Maryland. He met his true love, wife and muse a few years back and settled down with her in Georgia. Together they dream of moving to New Zealand to live out their lives in rural bliss.
You can find out more about Otto and his work at the following sites: http://plus.google.com/u/0/107036211838733226416
ARTbyGUNTHER joined Society6 on March 21, 2012.