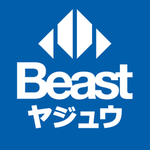 Beast Syndicate
Beast Syndicate is an independent design studio creating work that fuses post-war pop culture references, commercial art and print-making with street art, skateboard graphics, streetwear, and sneaker culture.
In addition to client-based brand development and graphic design projects, BEAST is the creative force behind the eponymous streetwear brand (a special collection of custom-printed T shirts and art prints is available online and shipped worldwide via www.BeastSyndicate.com).
Self-confessed addicts of visual street culture, BEAST recently published a series of street art photo journals entitled Art On The Run ( # aotrbooks ). Each volume focuses on a single geographic location - currently NYC, Miami, and England - and features exclusive photos of work by many famous, infamous, and unknown artists including Shepard Fairey, D*Face, Banksy, Ron English, FAILE, Buff Monster, WK Interact, KAWS, SkullPhone, Retna, C215, The London Police, Lady Aiko, EINE, Vhils, Revok, How & Nosm, and Mr Penfold.
FOR MORE INFORMATION: www.BeastSyndicate.com FACEBOOK: www.Facebook.com/beastsyndicate TWITTER: BeastSyndicate INSTAGRAM: BeastSyndicate
Read more
Beast Syndicate's Store
Filter