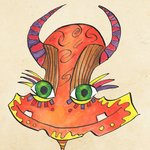 Broken Cat
I specializes in illustrations of monsters and other odd creatures. I enjoy this field, because it allows my imagination to run wild and to capture the most significant shapes and color combinations. When I start to draw, I have no idea of the outcome. My hand draws and I follow, suddenly abstract shapes occurs, and with symmetric details, a new creation is made. Every illustration is pure expression of my mind and mood. It always results in a new monster or creature never seen before, with a very unique expression. I have a very active and abstract brain, which allows me to be very productive, and always find new ways to do things. Last year I followed a one year course in design and illustration. Throughout the course I learned, how to get these qualities into good use, by understanding the process, and further, how to create excellent results. My inspiration is from a pilgrim journey two years ago in the Himalayas, where I learned how the natives expressed themselves in the form of colors and patterns. I found this very interesting and based my drawings on this concept. Especially the calm Tibetans, who live at the top of the mountains in the Nepalese area, made a great impact on my understanding of colorful symmetry. I would like to use my illustrations on clothing for children and adults, to spread some mad tones around Broken Cat joined Society6 on May 4, 2015
More
I specializes in illustrations of monsters and other odd creatures. I enjoy this field, because it allows my imagination to run wild and to capture the most significant shapes and color combinations. When I start to draw, I have no idea of the outcome. My hand draws and I follow, suddenly abstract shapes occurs, and with symmetric details, a new creation is made.
Every illustration is pure expression of my mind and mood. It always results in a new monster or creature never seen before, with a very unique expression. I have a very active and abstract brain, which allows me to be very productive, and always find new ways to do things. Last year I followed a one year course in design and illustration. Throughout the course I learned, how to get these qualities into good use, by understanding the process, and further, how to create excellent results.
My inspiration is from a pilgrim journey two years ago in the Himalayas, where I learned how the natives expressed themselves in the form of colors and patterns. I found this very interesting and based my drawings on this concept. Especially the calm Tibetans, who live at the top of the mountains in the Nepalese area, made a great impact on my understanding of colorful symmetry.
I would like to use my illustrations on clothing for children and adults, to spread some mad tones around
Broken Cat joined Society6 on May 4, 2015.