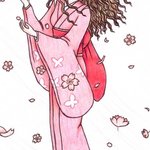 Carolina Zanelli
Some believe that dreamers and dreams are useless. I believe that dreamers and dreams are powerful. Powerful enough to touch people's hearts. To inspire these people to take action. To change the world. Dreaming, drawing, and writing is how I've spent most of my life. Dreaming of magic and fantasy and hope. Drawing girls and trees and landscapes. Writing about darkness and light and balance. I'm here to share these dreams. Will you join me? Come on. Lets make these dreams come true. www.carolinazanelli.com Carolina Zanelli joined Society6 on November 4, 2013
More
Some believe that dreamers and dreams are useless.
I believe that dreamers and dreams are powerful. Powerful enough to touch people's hearts. To inspire these people to take action. To change the world.
Dreaming, drawing, and writing is how I've spent most of my life. Dreaming of magic and fantasy and hope. Drawing girls and trees and landscapes. Writing about darkness and light and balance.
I'm here to share these dreams.
Will you join me?
Come on. Lets make these dreams come true.
www.carolinazanelli.com
Carolina Zanelli joined Society6 on November 4, 2013.
Carolina Zanelli's Store
25 results
Filter