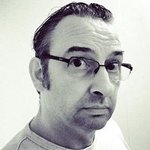 Christophe Gowans' Writer's Block
Christophe trained as a graphic designer at Berkshire College of Art and Design before designing for the music industry, working on projects including New Order, The Pet Shop Boys and - ahem - Bros, for design luminaries Peter Saville and then Mark Farrow. Subsequently, he switched to magazine design, becoming art director at Blitz Magazine, then Esquire, Modern Painters, the Sunday Telegraph Magazine and Stella. He continues to design for the likes of The Financial Times, The Guardian and Newsweek. Most of his personal work is inspired by pop music. He also likes to play with typographic abstraction and graphic distillation, but who doesn't? Christophe Gowans' Writer's Block joined Society6 on January 26, 2015
More
Christophe trained as a graphic designer at Berkshire College of Art and Design before designing for the music industry, working on projects including New Order, The Pet Shop Boys and - ahem - Bros, for design luminaries Peter Saville and then Mark Farrow.
Subsequently, he switched to magazine design, becoming art director at Blitz Magazine, then Esquire, Modern Painters, the Sunday Telegraph Magazine and Stella. He continues to design for the likes of The Financial Times, The Guardian and Newsweek.
Most of his personal work is inspired by pop music. He also likes to play with typographic abstraction and graphic distillation, but who doesn't?
Christophe Gowans' Writer's Block joined Society6 on January 26, 2015.
Christophe Gowans' Writer's Block's Store
79 results
Filter